A M Bamford MPhys Physics with Astronomy, 2017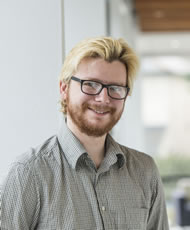 Southampton was, by far and away, the friendliest and most welcoming location I visited while choosing my university. All of the staff are kind, welcoming, and take time and effort to make the experience as enjoyable for students as possible.
Southampton has boosted my confidence, my independence, and my drive to follow any – and all – interests.

Calling Southampton my home
Of course, I was anxious about coming to Southampton as it was the biggest change in my life so far, but that anxiety proved unfounded almost as soon as I arrived. Everyone here is friendly and welcoming, and I've come to call Southampton my home.
The highest level of education
Studying here is brilliant. You can expect the highest level of education from the staff at Southampton. The lecturers all care deeply about their subject, and will take on board every suggestion students have to make their teaching more impactful. For me, I most enjoyed being able to apply what we learn practically, on field trips and in the labs.
The facilities here at Southampton are top notch too. You won't find yourself wanting at Southampton, from study spaces, to sporting facilities, and labs for every field offered by Physics and Astronomy at Southampton.
You also have the opportunity to study modules outside of your core subject area. Almost every optional module for every other subject is available; modern foreign language courses, other sciences, even piracy and the sea!
Growing as a person at Southampton
I would say my Southampton 'highlight' has been meeting and making all of the friends I have accumulated over the past four years, and realising that for every guilty pleasure I may have, there are a dozen people I can share it with and not feel guilty anymore. Southampton has boosted my confidence, my independence, and my drive to follow any – and all – interests.
A great city for students
Southampton is brilliant, especially for students, it provides a mixture of fancier and sophisticated places to enjoy, a lively and diverse nightlife, and a beautiful park in the Southampton Common.
My Southampton experience in one word…
Fantastic.