Alex Harding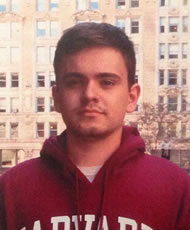 "In summary, this trip is a once in a life time opportunity to both get first-hand experience in academic study and to spend a year in a lovely city.
The Harvard year abroad has been a very unique experience and one I will not soon forget. The course provides great real world experience, acting as a nice stepping-stone to further academic study or even a career
Project challenges
"The amount of work and effort expected is very fair and often you will find yourself surpassing what is expected as you'll become engrossed with your project. If you work hard over the first three years of University to get selected for this course, you will not be disappointed. The year will not just be about work however. There are plenty of opportunities to go and explore. I highly recommend New York and Washington DC, which are both relatively close to Boston.
Further studies
"After Harvard I have gone onto further study, but in a different discipline. I am taking part in the Master of Space Studies program at the International Space University. This will help me realise my ambition of a career in the space sector. The experience I've achieved from this year abroad will help in any potential future study/career."