Ria Pandit Master of Physics (MPhys) Physics with Astronomy, 2020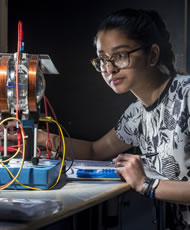 "I chose to come to the University of Southampton as the atmosphere, teaching staff and students are all very friendly and the university puts a huge emphasis on having a work-life balance.
I was keen to study somewhere which would allow me to thrive in all aspects of life so I was really attracted to the way the University balances challenging academics with the student societies and sports teams.
Enjoyable study
My course has been really enjoyable, especially the weekly physical and computer labs. The academic staff are extremely approachable – I feel confident in asking for support if I'm struggling in any way as I know they'd be willing to help. We are always given plenty of material to learn from, including online textbooks and questions, and our lectures are recorded and so I can always watch again online.
Rewarding experiences
Since coming to Southampton one of my most enjoyable experiences has been taking up rowing. Before university, I'd never been very sporty and had no previous experience of rowing or being part of a team, but after 8 weeks of intensive training I was able to represent the University at our first race. Seeing how far I've come and how much the team-work has paid off, is a hugely rewarding experience.
Getting involved
I would recommend Southampton to new students as it is a place where you can really thrive both academically and socially. I have been impressed with how the University listens to its students' views and, as I am a course representative, I get to see this happen first-hand. There is always something to get involved with, be it a careers fair or a comedy night at The Bridge - since being at university I haven't had a single boring day!