Course: Physics PhD
Whilst at Southampton Chris sent a teddy bear into space and was named Europe's best young physicist.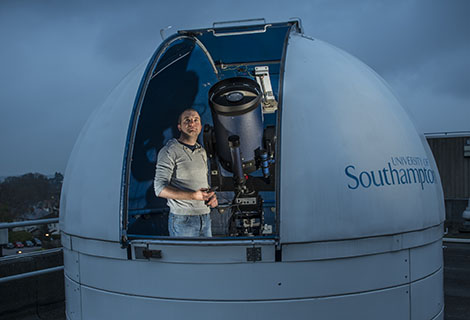 Hitting the headlines
"Southampton has exceeded my expectations. When I left college I was a very shy person. The atmosphere at Southampton and the way the Physics Society (Physoc) included me built my confidence both personally and academically. As I gained confidence it translated into my work and my grades got better and better.
"I started the BSc Physics with Astronomy programme but at the end of my first year I transferred to MPhys Physics with Astronomy.
"I became the outreach and careers officer for Physoc, joined the Astronomy society, and started the Southampton Space Flight Society that runs an exciting amalgamation of space related projects such as sending high altitude balloons and rockets to the edge of space.
"The society's work hit the headlines when we joined forces with pupils from Toynbee School, in Chandler's Ford, to launch Derek the Teddy Bear to the edge of space
"It was brilliant and brought together lots of different disciplines from physicists to engineers. We hope that by carrying out events such as these we will inspire young people to get involved in science and show them how fascinating space is."
Award-winning
"When I completed my MPhys my supervisor nominated me for Science Student of the Year at the SET awards – Europe's most important awards for science, engineering and technology graduates.
"I was very proud to win the Best Physics Student (BG Group) Award for my masters' thesis and my outreach work. I think it is testament to the quality of the Physics department that a student-proposed project was approved and supported all the way to winning a European-wide award."
PhD
"Just before I graduated I decided I wanted to pursue a PhD exploring the supernovae rate within the local universe.
"The chance to work with world-leading researchers, have access to world class facilities and travel the world to meet other researchers was too good to pass up on.
"I work in a positive environment doing a job I love."
The future
"I have a number of ambitions for the future – to complete my PhD, to work in research and to turn the Spaceflight Society into a successful aerospace company.
"The opportunities I have had at Southampton to start and run societies, along with public engagement activities, have afforded me the skills to make my ambitions seem attainable.
"Long-term I would like to significantly contribute to the scientific community in such a way as to further our understanding of the Universe and develop technologies to aid in the manned exploration of space."