Course: MPhys Physics
Studying at the forefront of physics research has been one of the highlights of student Emma Tattershall.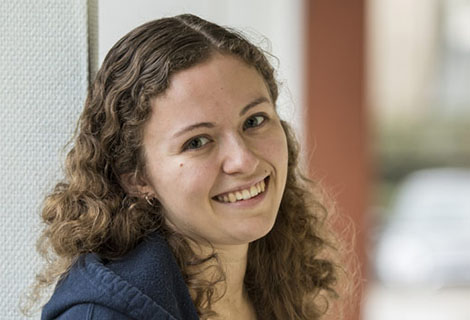 Pioneering research
"For my fourth year project I have been looking at one of the four fundamental forces - the strong nuclear force in five dimensions – to gain a better understanding of its properties.
"There aren't many people in the world who are working on this topic but my supervisor Professor Nick Evans is one of them. It's really exciting to be looking at something at the forefront of current research.
"Like any course a lot of the day-to-day stuff can feel really mundane but when you're studying physics there are these moments when you realise that what you're learning is profound.
"The range and quality of the research they do at Southampton is fantastic. There is a lot of very exciting, cutting edge stuff."
Flexibility
"I was initially drawn to Southampton due to the flexibility of the course. You can choose two optional modules a year throughout the first three years and five modules in your final year.
"This has been fantastic for me because I wasn't totally sure what I wanted to study. I was accepted into Southampton and another university and absolutely agonised over the choice. In the end I made the decision to come to Southampton and I have never regretted it.
"Southampton has a great reputation for physics and the course is so flexible. I'm currently taking a computer science module and an advanced computing engineering module. Neither of these are on the main list but if you want to do something different you normally just have to ask.
"I've not met anyone from any other university who has enjoyed the same freedom to adapt their course to their interests as I have had at Southampton.
"There's a great sense of community here, the students are collaborative rather than competitive – we help each other out and learn while we are doing it."
The future
"Last summer I did a work placement at RAL Space, in Oxfordshire, programming a small rover to autonomously avoid obstacles using a webcam. This placement and the computing modules I am taking this year have shown me that I would like to take an MSc in Artificial Intelligence when I finish here.
"Physics is a very versatile first degree so I am confident I'll be able to make the leap to computer science. After that I would like to do a PhD in either Artificial Intelligence or in Computational Physics."