Course: PhD in Physics
Physics student Joe Spencer enjoyed his undergraduate time at Southampton so much he decided to stay on to study a PhD.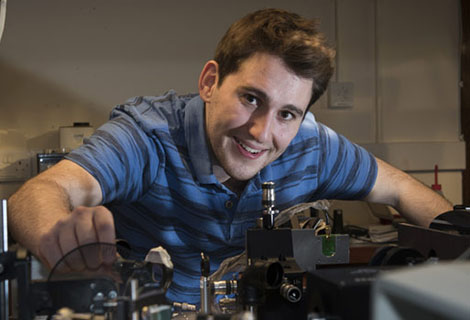 Studying at Southampton
"I decided to come to Southampton for my undergraduate degree because of the research excellence that is associated with the University.
"I studied MPhys with a year in experimental research and the year in research made me want to stay on for a PhD.
"At Southampton the research we do is cutting edge and we have strong ties with industry and networking opportunities with other institutions.
"I have also been an active member of the magic society and have organised sell out shows and charity balls. This has given me confidence and skills for public speaking and presentation."
My research
"My PhD study focuses on the absolute limits of nanotechnology, just 1-2 atoms in diameter. I am exploring physics at this scale and where it has a place in future technology.
"I was fortunate to be among 21 Southampton PhD students and Early Career Researchers who got the opportunity to present their research to a range of politicians and a panel of expert judges at the House of Commons as part of the SET (Science, Engineering and Technology) for Britain poster competition and exhibition.
"The competition encourages, supports and promotes Britain's early stage and early career research scientists, engineers, technologists and mathematicians who are an essential part of continuing progress in and development of UK research and development.
"I am pleased to have been involved with SET for Britain and to have had the chance to engage with policy makers to tell them about my work, which could form the basis for future technologies."
The future
"In the future I think I will continue with scientific research, or create a spin-out company from that research. Ultimately I would like to be a successful professor at a leading institution."