Course: Physics with Astronomy             
With the support of the University Michael Bargeron is able to combine his studies with his passion for professional rifle shooting.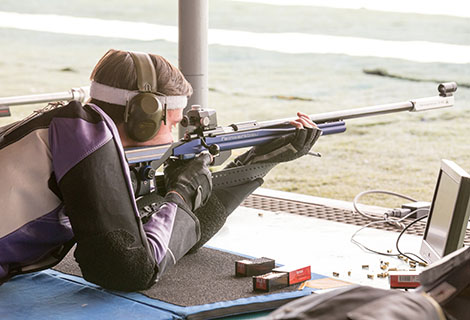 Choosing Southampton
"I was attracted to the University of Southampton because of the quality of the Physics and Astronomy department and the University's Rifle Club.
"Physics at Southampton is of the highest quality. The lecturers and PhD demonstrators are keen to help you with any difficulties you may have and the University's facilities have been able to accommodate my every need.
"The campus, Physics department and societies are some of the best you will find anywhere. It really is a fantastic University."
Supporting ambition
"I have enjoyed the seemingly endless options of societies at Southampton and have taken full advantage of them. I have been a senior committee member of the Rifle Club and have taken part in martial arts clubs.
"Since being at Southampton I have won four different rifle shooting team events in the British Universities and Colleges Sport, and have been selected to represent the University of Southampton and Britain at the World University Shooting Championships."
The future
"My long-term ambition is to go to the Olympics and win a gold medal in rifle shooting."