Course: MPhy Physics with a year of Experimental Research
Physics student Tom Crane says his work placements through the South East Physics Network (SEPnet), and the Physics Society (Physoc) trip to CERN have been the highlights of his time at Southampton.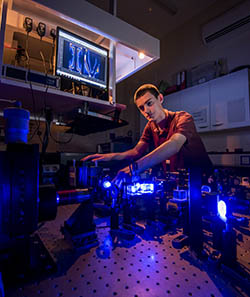 Exciting experiences
"In the summer following my second year I undertook a SEPnet placement at the University of Sussex in the Ion Quantum Technology group. The work placement was an incredibly valuable experience. It allowed me to apply the skills and knowledge I had gained during my degree and taught me many more things.
"Another highlight was the Physoc trip to CERN, in Switzerland. We were given a tour of the facilities and attended a talk by a member of the research staff. We also had the opportunity to explore Geneva."
Studying at Southampton
"The Year of Experimental Research programme has given me the opportunity to work alongside leading academics and use state-of-the-art equipment and facilities. The programme has also helped me to develop the skills and knowledge of a professional physicist and given me a competitive advantage when applying for jobs or scholarships.
"Working in the University's cleanroom facilities has been particularly exciting. I have been able to use a range of cutting-edge equipment that makes the facility one of the premier cleanrooms in Europe.
"My final year research project has involved the development of a novel type of integrated photonic device that manipulates visible light at the nanoscale, which has a range of real-world applications, from efficient solar energy collection to sensing and the development of quantum information technology.
"I would really recommend the University of Southampton for anyone interested in studying physics. The teaching staff are excellent, the facilities are world class, and there are a tremendous number of opportunities available.
The future
"My experience at Southampton has assured me that I would like to be a professional physicist. My course has been really enjoyable throughout, but I have particularly liked experimental and computational physics."