As your son or daughter prepares to embark on the new adventure of university life, you will undoubtedly have questions on a range of subjects.
Our parents and supporters' guide will tell you about life at the University, fees and funding, the application process and other important information about studying here.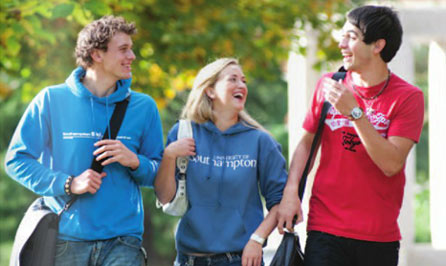 Success in the jobs market
The University of Southampton is internationally recognised, with a reputation for excellence in teaching, research, enterprise and innovation. Our graduates have sustained an impressive record of success in their professional endeavours – of our 2014/2015 undergraduates, 93 per cent were either employed or undertaking further study six months after graduation, with 84 per cent employed in professional / managerial level positions.
Real-world application and employability are central to our teaching philosophy. Our courses, and the additional opportunities we offer for work placements and volunteering, can help our students gain the necessary experience for a future career, along with the skills to identify opportunities and make the most of them.
A commitment to welfare and safety
As well as providing an outstanding educational experience, we are dedicated to making all our students feel at home at Southampton, and in our friendly student community, as quickly as possible.
Southampton is recognised as a safe place to live, study and work, and the University is committed to student safety at all times. We work closely with the police force, Southampton City Council and other partners to continually promote and reinforce student safety messages. The highest standards of safety are in place across all University facilities, including:
well-lit paths and walkways on all University sites
security staff on call to hall sites throughout the night
the University's own bus service (uni-link) provides a safe, reliable, frequent service between 5.30am and 3am
resident wardens in every hall of residence, with 24-hour, seven-day cover
For more details, please download our Parents' and supporters' guide.
Health and welfare
The University has two health practices based at the Highfield campus. There is a dental surgery on campus. Support is available from the University's Counselling Service and the student-run help and information line, Nightline.