Visiting the University is a great opportunity to see the campus and find out what it's really like to live and study here. You'll be able to see our state-of-the-art student facilities, including the Hartley Library, Jubilee Sports Centre, Students' Union and a hall of residence.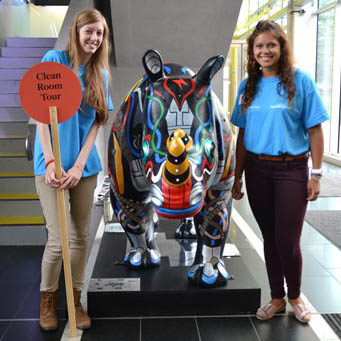 There are a number of ways to visit the University, including undergraduate open days, campus tours, UCAS and Higher Education fairs and self-guided walking tours.
Open Days 2020
Please visit the University's webpage for details of our next Open Days. 
Physics and Astronomy Visit Days
If you apply through UCAS we aim to invite you attend a Visit Day between November and February. Our UCAS Visit Days are designed to provide you with an opportunity to learn more about us and what it would be like to study here.
They are designed to give you a more in depth view of our degrees and school. You will have the opportunity to go to lunch in the students union with one of our current students, tour the school and facilities and attend brief talks, including a practical demonstration, on our research driven optional courses. There will also be a talk on student life here in Southampton.
Optional Interviews
We will be offering the option of an interview to applicants who book to attend a Wednesday Visit Day. These interviews will offer an opportunity for applicants to explain any special circumstances associated with their application and to demonstrate their enthusiasm and interest in Physics and Astronomy. These interviews will normally involve answering some basic physics questions and may be taken into account when making non-standard offers. They will also provide you with an opportunity to ask a member of the teaching staff questions about what it would be like to study here.
Physics and Astronomy Taster Days
In addition to the University's open days, we also run two Physics Taster Days each year. These are intended for students who are studying Physics at A2 or A/S level and are considering entry to University to study Physics and/or Astronomy.
You will attend lectures given by Professors David Smith and Alberto Politi, Admissions Tutors, and take part in hands-on activities, working with data from the Hubble Lab. You will also have the opportunity to meet some of our current undergraduates over lunch and take a tour of the campus.