Course: MPhys Physics with Astronomy (with a year abroad)
During his time at Southampton, Physics student Mark achieved his goal of spending a year doing research at the Harvard-Smithsonian Centre for Astrophysics in the USA.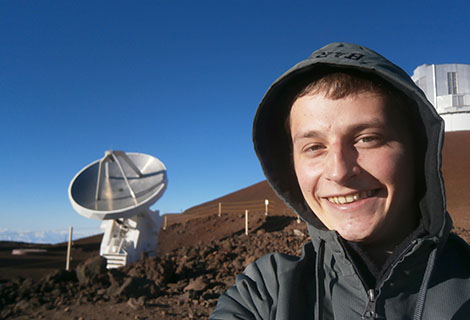 Choosing Southampton
"I had always wanted to be an astronomer and was attracted to Southampton because of its reputation for high quality teaching and research.
"The opportunity to spend two weeks of the second year in Tenerife working on space physics and observational astronomy was hugely appealing to me. The unique year abroad option was also something I aspired to achieve, so it made Southampton my first choice.
"There is also a very attractive campus and an active students' union with lots of societies to get involved in."
Travel opportunities
"As part of my course I went on a two-week trip to Tenerife where I completed a spacecraft design study and a practical observational project at the Mount Teide Observatory.
"After this very successful trip I was inspired to work towards the year abroad programme. The Harvard-Smithsonian Centre for Astrophysics is a world-leading research facility and the opportunity to work there was just too good to miss.
"As soon as I arrived I was thrown into research, learning about programming, data calibration and imaging. I was even lucky enough to travel to Mauna Kea, in Hawaii, to observe for four nights.
"The Centre for Astrophysics has a thriving working environment with talks and seminars every day from top scientists. It really is one of the best places to do astronomy."
The future
"After I graduate I hope to embark on a PhD. I want to take forward all that I have learnt on my year abroad and continue researching in astronomy."