Anasthasia Manu MPhys Physics 2016
National Physical Laboratory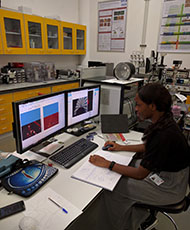 Anasthasia described her placement as interesting and challenging. There was always a problem that needed solving, which was debated amongst peers of different expertise, presenting new and interesting ways to solve problems.
The placement really helped me to understand what it takes to do real life research for a commercial research company
What did your job entail?
Characterised magnetic nanosensor devices to test responses in the presence of different strength magnetic fields. 
Operated sensitive equipment; using AFM and MFM investigation techniques.
Conducted experiments on the nucleation, annihilation and manipulation of domain walls and how magnetic beads influence them.
Prepared chemical solutions of various sized microbeads to be used for imaging techniques.
Analysed data using a range of scientific specific software and presented findings to peers in presentations and meetings on a weekly basis.
Why did you decide to do a placement?
I wanted clarification on whether or not to continue on a Physics orientated path and how Physics is practically used in a research laboratory.
Would you recommend doing a placement?
Definitely, it provides invaluable experience not only in working in Physics but also in networking and gathering intel on what to do to prepare for future prospects.
How do you think doing a placement has benefited you for the future?
Has greatly helped me in my decisions on whether I want to do a PhD and has also helped me understand what it takes to do real life research for a commercial research company.
Do you have any plans for the future?  If you do, what are your next steps?
My plans for the future includes applying for industrial research; improving my computing skills and possibly doing a PhD.