Uluk Rasulov MPhys Physics, second year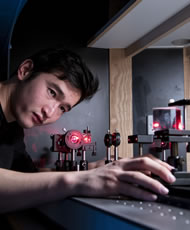 I chose the University of Southampton because it's a great place to study physics and provides incredible opportunities such as the flagship programmes, where you can study at CERN and Harvard.
Studying at Southampton
Physics is my passion. It's a challenging degree, but I greatly enjoy all my lectures and modules, and learning about new topics which I haven't done before. My course allows me to pick optional modules which can be anything from philosophy to a language.
I also have a personal tutor who is extremely helpful, and is there to answer any individual queries I have.  
Settling in to university life
I was initially anxious about starting to live an independent life away from home in a country and city where I didn't know anyone. I was worried about meeting new people and starting my course as I wasn't sure of what to expect.
However, once I arrived at Southampton all my worries were gone as I met very welcoming students who were in the same position as I was and from the very first day I made many new friends.
The University provided a great environment where I was gently eased into my life through special welcome talks for my course during fresher's week where I met my lecturers and other students on the same course.
Living in Southampton
The highlight of my time here has been the societies. They're a great place to meet new people and find a new passion.
Southampton is a great city to live in. There's something for everyone; there are a lot of nightclubs for people who like to go out, but also nice parks for when the sun is out.
The city is very safe to live and you can get around anywhere using a bus pass which you can get when you live in halls. I also bought a bike which is very useful as you can get around campus or to the city centre very quickly.