Year 7 and Year 8
Speakers for Schools
Many members of staff volunteer to give talks about topics in Physics and Astronomy at local schools. These visits involve no cost to the schools as the University is happy to cover all travel costs of the speaker.
Explore the full list of speakers.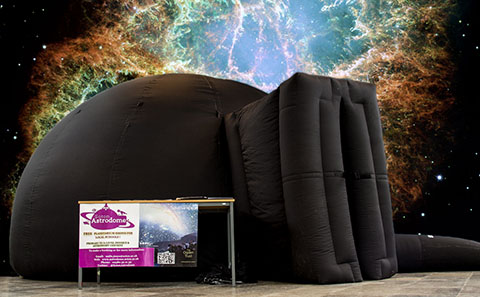 Interactive planetarium shows for Key stage 3 level include discussion of the planets, the life cycle of stars, galaxies and much much more. All shows are presented by Astronomy undergraduates and PhD students.
The guided tours / shows can be tailored to the syllabus and are suitable for all ages (from Primary to A-Level) and usually last about 20-30 minutes. We can also offer the award-winning 'We Are Astronomers' film which is aimed Key Stages 3-5 and is 25 minutes long.
 
The astrodome shows are run by Astronomer Dr Sadie Jones and a team of postgraduate and undergraduate astronomy students at the University of Southampton.
Please contact Dr Sadie Jones for more information or to make a booking.
Year 9
Teaching the Electromagnetic Spectrum - Produced by Stephanie Gibbons-Ruane Undergraduate Physics and Astronomy with the support of Vinay Sharma at Westgate School, Winchester
Extra Solar Planets - A talk by Dr Christian Knigge (as above).
Visiting us
We are always happy to work with secondary school science teachers who would like to take a group of their students to visit our school. Such visits can provide students with a clearer understanding of what is involved in studying physics at the degree level and typically include a tour of our teaching and research facilities and some hands-on demonstrations. Visits can be arranged via our Schools Liaison Officer. (Note that these school visits are separate from, and in addition to, the visit days that we run for students who have already received a formal offer to study physics at Southampton.)