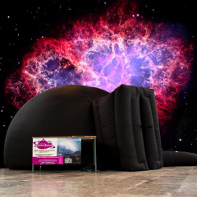 Interactive planetarium shows for Key stage 4 (years 10 and 11) level include discussion of the black holes, cosmology, the life cycle of stars, galaxies and much much more. All shows are presented by Astronomy undergraduates and PhD students. Please contact Dr Sadie Jones for more information or to make a booking.
World Wide Telescope Workshops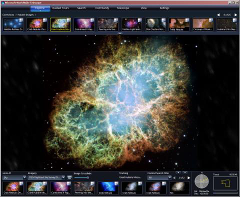 This activity - designed by Dr Sadie Jones, uses the free software, World Wide Telescope and allows students to use images from real telescopes to learn and astronomy and space. It also introduces how astronomers use the electromagnetic spectrum to do their research. For more information on the show content please see this blog post.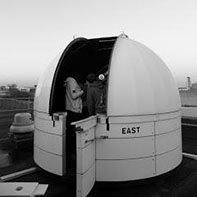 Observatory and Telescope Tours
Small groups of students are invited to visit the Physics and Astronomy department and have a tour of telescopes in the observatories on the roof. Such visits can include an astronomy talk and meeting real astronomers.
For more information please contact Dr Sadie Jones.
Aliens, Our Solar System & Exoplanets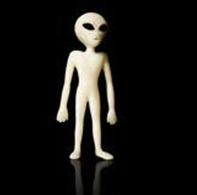 This talk discusses where Aliens can live in our solar system.
Students will learn about our planets and search for planets around other stars and exoplanets in our galaxy and get a sense of scale for the universe as a whole.
The popular Light Express Road Show is a FREE travelling roadshow which visits schools and colleges across the South of England. The show consists of a 'Christmas Lecture' style presentation which is very visual and interactive. The show contains demonstrations and activities which feature the physics of light and the science behind the internet. The show can be tailored to suit GCSE Physics and/or Applied Science students and provides a unique opportunity for students to see big lasers in action. The Light Express website includes an online booking form that can be used to arrange a visit from the road show.
These sessions are delivered in school by all SEPnet partners, and form part of the SEPnet GCSE programme. They are available free to schools and include topics such as:  Radical Radioactivity, Rollercoaster Physics, A Walk through the Electromagnetic Spectrum, Electricity and Medical Physics.
Visiting us
We are always happy to work with secondary school science teachers who would like to take a group of their students to our school. Such visits can provide students with a clearer understanding of what is involved in studying physics at the degree level and typically include a tour of our teaching and research facilities and some hands-on demonstrations. Visits can be arranged via our Schools Liaison Officer. (Note that these school visits are separate from, and in addition to, the visit days that we run for students who have already received a formal offer to study physics at Southamp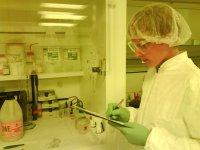 Work Experience
Please ask your students to contact our Schools Outreach Officer if they are interested in working in the School of Physics and Astronomy we have a limited number of placements available for students for up to two weeks.
Other University of Southampton sites