Position: Emeritus Professor
After a long academic career at Southampton, Betty is continuing her research at Southampton into the magnificent phenomena of the aurora in her role as Emeritus Professor.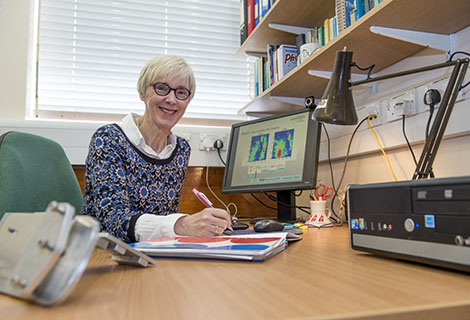 Working at Southampton
"I have been at Southampton a long time, originally accompanying my husband to his first job in 1969.
 "My research is into space physics and for a large part of my career I have studied the effects in the upper atmosphere from particles that cause the aurora. Bringing research topics into lectures is important for inspiring undergraduates, and in my case it has been an easy task given the attraction of the aurora.
 "Being able to bridge the gap between school and university and linking the teaching of physics with maths is a very big challenge and one that requires being prepared to change the way we teach and try different approaches. I have always felt the importance of obtaining and using feedback from the students and was honoured to win a Southampton University Students' Union Excellence in Teaching Award for best feedback provision."
Career highlights
"The best part of my career has been the privilege to work in an area of physics that is very accessible to the general public.
 "My research into the aurora has taken me to the high arctic regions to observe one of the most fantastic spectacles in the night sky, and more importantly, I have had a string of excellent students and colleagues with whom to share the excitement.
 "I have now retired from teaching but am continuing in an active research role supporting the growing group of Space Environment Physics."