Position: Professor and Admissions Tutor
Professor David Smith has had a long career at Southampton due to its happy atmosphere and the exciting people he gets to work with.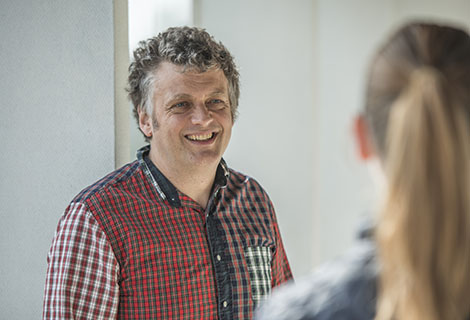 Working at Southampton
"I have worked in Physics and Astronomy at Southampton for the past 15 years and it is an exciting place to work. We are understanding new things every day and seeing students develop into professional physicists.
"Southampton has a happy atmosphere and exciting people to work with. There is a friendly atmosphere and academics and students have real identities as members of Physics and Astronomy.
"I share my time between teaching and researching. My main teaching role is leading the third year experimental laboratories – an optional course where students get to do a series of real research projects such as making their own high temperature superconductors, building a laser, or determining the mass of cluster galaxies.
"My research is focused on using laser spectroscopy to study nanostructured materials. I am currently studying the smallest possible nanowires that are one or two atoms in diameter. I am interested in what happens when the size of an object is decreased into the nanometer range.
"I am also one of two Admissions Tutors for Physics and Astronomy."
Career highlights
"The highlights of my career so far have been obtaining a personal research fellowship from the Engineering and Physical Sciences Research Council (EPSRC), and publishing a paper in Nature that has now had more than 2,000 citations."
How you'll be remembered
"I'm known for being very talkative and a little bit mad – in a good way."